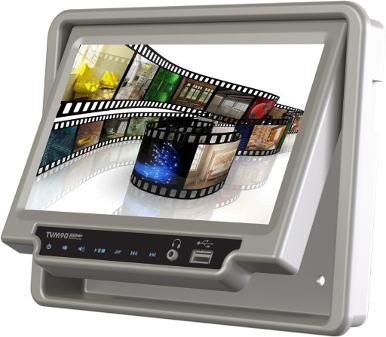 ABESiS TVM90USB is a  monitor with USB port and 9" size, economic and long-lasting, and targeted to be used for all bus seat types on the market.
You will have made the best choice by selecting TVM90USB, if you want to have your bus the most different look with spending the least money and giving chance to reach to passangers own USB media disk.
Your bus will be the luxury and extraordinary with most economical budget …
9″ LCD TV monitor
24V – Average 6W Power Consumption
Same form factor with IVOD90
25° Swivel mechanism
Dimensions: 256 x 186 x 45 mm 10 5/64″ x 7 5/16″ x 1 3/4″
Very long-lasting "capacitive sense" technology for front buttons
Vandal Proof protection glass
Industrial grade Headphone Jack
USB port at the front panel
TVM90USB model monitors are used in the solutions of ABESiS TV Series and there is USB port on it.This model is NOT a Touch monitor and has No Network capability.
Please check IVOD90 and IVOD90HD models if you are looking for a GIANT MONITOR with Touch screen and Network capability.