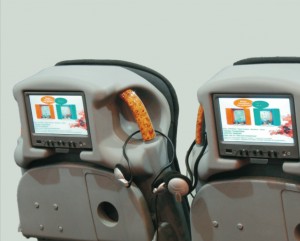 40º Swivel Mechanism
Golden Pin RF connectors
Fire Resistive cable infrastructure
Optional Navigation / Infotainment Channel
To prevent your seats from any damage in a bus, a 3D model of the back of the seats are designed to manufacture a plastic back cover that fits perfectly to your seats. Thus, owner can restore the bus by replacing the original plastic back covers. Passengers will spend a pleasant time with available satellite broadcasts (TV, radio channels) and media channels (film, music channels). The entire system for 46 seats has maximum of 240W (10A @ 24V) power consumption. There are two alternative models depending on the number of channels.
These systems are the systems most appropriate to everyone's budget. In addition, the systems running smoothly thanks to the simple and proven infrastructure. In particular, system is most suitable for long-distance and intensive routes/lines.
Thanks to easy to understandable technology and infrastructure which is known by everyone, even the most difficult situations you can get help from the technical people all around the world.
Monitors with the model numbers beginning with the letters TVM are being used in these systems.
Our TVM models;
TVM70 - 7″ size TV monitor
TVM90 - 9″ size TV monitor
TVM90USB - 9″ size  TV monitor
Please check suggested solutions of TVM series;
4 TV Channels / 1 Front View Camera / 1 Movie Channel / 2 Music Channels
6 TV Channels/ 1 Front View Camera / 3 Movie Channel / 6 Music Channels